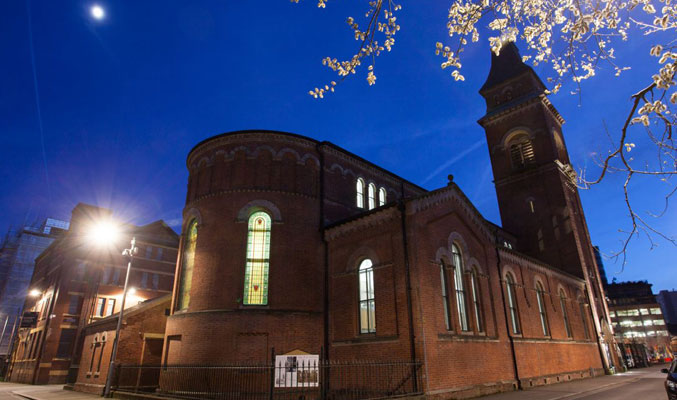 About Us
Hallé St. Peter's is steeped in history
HISTORY
An impressive building dating back to 1858, Hallé St. Peter's has a rich and varied history. During the Industrial Revolution Ancoats was transformed from a small collection of houses and fields to an area dominated by the cotton factories which lead to Manchester becoming one of the most important industrial districts in the world. Its landmark buildings had become the huge red-bricked factories which stood between the Ashton and Rochdale Canals.
By the time St. Peter's was built in 1859, Ancoats had become a bustling and overcrowded industrial suburb with a population of more than 50,000, largely made up of mill workers, drawn from the significant Irish and Italian immigrant communities.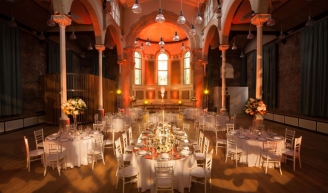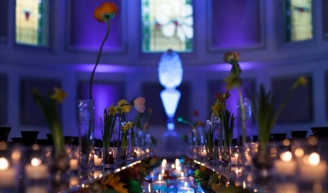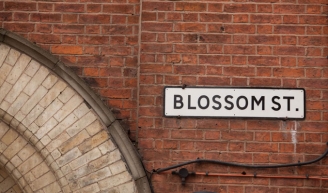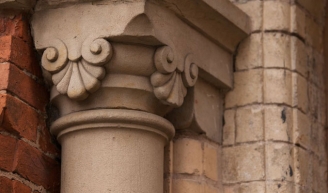 St. Peter's Church was the first Anglican Church to be built in the predominantly Roman Catholic community of Ancoats. Its iconic semi-circular apse was build to ensure the building's prominence against its surrounding angular Mill buildings.
The parish ran for just over 100 years, surviving the Manchester Blitz during the Second World War but from the 1950s onwards the population of Ancoats greatly declined which led to the church closing in 1960.
After a period of time being used as a warehouse the building was abandoned in the early 1990s, by which time it had received Grade II Listed status as part of the designation of the Ancoats Conservation Area. By the time the Hallé acquired St. Peter's, the building had stood empty for decades.
Through the initial work of the Ancoats Buildings Preservation Trust, Heritage Lottery Fund, English Heritage, the Homes and Communities Agency and the Architectural Heritage Fund, the building was partially restored. In 2013 the Hallé raised significant funding to complete the restoration and convert the Church for use by the Orchestra and associated ensembles.
ABOUT THE HALLÉ ORCHESTRA
This Grade II listed church is also the principal rehearsal and recording venue for the Hallé Orchestra, Choir and other Hallé Ensembles.
Founded in 1858, the Hallé, Manchester's symphony orchestra, ranks among the UK's top symphonic ensembles, with a distinguished history of acclaimed performances in this country and around the world. The orchestra has been responsible for award-winning recordings, radio broadcasts and educational outreach programmes, and remains committed to building audiences and developing orchestral repertoire.
CSR
Hallé St. Peter's is focussed on supporting the local community, through Hallé's award-winning Education Programme. All events booked at the venue support the programme, which exists to create a wider enjoyment and understanding of music in all sectors of the community, especially those who do not traditionally come to the concert hall, by providing a range of unique opportunities to participate in music and other creative art forms.